According to W3Techs, WordPress runs 43% of all websites on the Internet, including those without a content management system (CMS) or with a CMS that was specially designed.
The majority of people use WordPress, but they are unaware of the importance of data backup for their WordPress site. Understanding data backup can help site owners deal with future problems with their websites.
While it is a reliable platform, unforeseen incidents such as hacking or server failures may occur, resulting in data loss or website downtime. Data backup is necessary on a regular basis to reduce these risks.
Let's get to know 10 benefits of Regular WordPress backup:
One of the primary benefits of regular data backup is protection against data loss. In the event of a hack, server crash, or other technical issues, a regular data backup ensures that one has a copy of the site's data.
This means that one can quickly restore the site to its previous state without losing any important data.
If the first WordPress backup experience data corruption or hard disc loss, there should be further backups available. Cloud or remote storage is the greatest option for this strategy. In the event of a natural or man-made disaster, further backups are required.
Storms and conflict can cause servers and computers to be destroyed by fires and floods. Fortunately, we live in a time where cloud backup is simpler and more secure than ever before thanks to cloud computing.
The security of the site can also be enhanced by routine data backup. If a site has been infected by malware or other security problems, a recent backup can be used to swiftly restore it to a secure condition.
A lot of organizations must abide by data privacy laws like the CCPA and GDPR. The ability to promptly retrieve data in the event that it is lost or compromised is made possible by regular data backup, which can assist assure compliance with these laws.
Frequent data backup might save money as well. If there is no backup, it may be necessary to hire a developer or an IT specialist to restore the site, which would incur high expenses. Having a backup allows users to easily restore the website themselves, saving both time and money.
Regular data backup can also make site migration easier. If one decides to move the site to a new hosting provider, having a recent backup can make the process faster and smoother.
Backuply Provides a simple process to migrate your website to any host.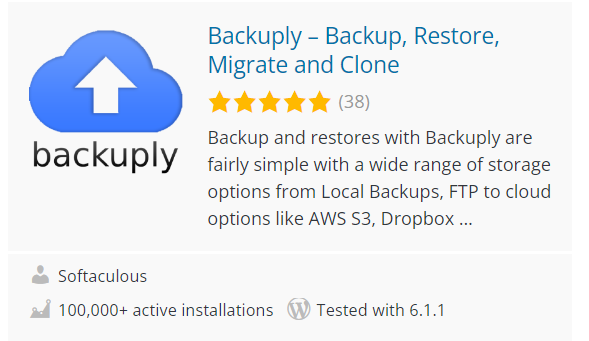 7. Relations with Investors
According to investor relations, data backup cuts down on the time it takes to create yearly reports for shareholders. Saved data represents a company's diligence and organization. Shareholders cannot make educated judgments or estimate a company's value without data backup.
The SEO of the site can also be enhanced by routine data backup. The site may lose visitors and rankings if it is hacked or otherwise compromised.
Having a backup allows for speedy site restoration while minimizing the negative effects on a WordPress site's SEO.
Frequent data backups bring comfort. In the case of a cybercrime, system breakdown, or disaster, a backup is ready to resume a company's archive. One can always begin storing crucial business data than never do it.
To prevent any company from losing clients and investors and going out of business, it is always recommended to do data backup.
10. Prevention of Human Error
Protection against human mistakes is provided by routine data backup. If someone mistakenly deletes or makes changes to essential data, having a backup can allow one to rapidly restore it and minimize the damage to the organization.
Restore being just one click process with Backuply you can easily restore to a previous point if you end up making any mistake.

Any WordPress site must have frequent data backups. The benefits of regular data backup include protection against data loss, quick recovery time, improved security, compliance with data protection regulations, cost savings, easy site migration and content management, better SEO, etc.
One can make sure that the company is secure and operating efficiently by investing the time necessary to periodically back up the data on the website.
If one wants to back up a WordPress site, Backuply can help with frequent backups of the site.
Backuply is an easy-to-use and affordable backup plugin which comes with auto backups so you will never need to backup manually for a WordPress website, and its plan starts at $39 for 1 year.
Drop us an email to learn more about the Backuply plugin and its features from our representative.